Seems like a good idea right?
Getting paid to work from home for the world's largest online retailer and being able to do it part-time. What's not to like?
Unfortunately, finding those Amazon seasonal work from home jobs is hard…
Not because they're seasonal jobs or that the positions get filled quickly. No. It's because those types of jobs are extremely limited.
Unless you have a degree, the only Amazon work from home jobs you can do part-time are customer-related jobs. That's it.
Is that kinda disappointing? Yes. Especially if you came here hoping to find a list of work from home gigs offered by Amazon.
But don't worry. You didn't waste your time. Coming here was totally worth it.
And if you stick around, you'll learn some other great ways to make money from home with Amazon.
So if you still want extra income, keep reading.
7 Best Amazon Work From Home Jobs
Most of these opportunities will be easier and much more lucrative than the customer service job. All you have to do is choose the one you like the best.
1. Amazon remote customer service associate
As you already know, this is the only Amazon seasonal work from home job you can do part-time. It involves assisting shoppers via phone, email, or chat.
You'll be responsible for dealing with things like refunds, returns, and other customer-related issues during the busy holiday season (Oct – Jan).
Other than a high school diploma, you'll need at least a year of customer service experience, an outgoing personality, and high-level English skills to interact with shoppers.
Since it's a work from home job, you'll need basic computer skills too. And your computer and Internet need to be up-to-date.
You'll earn about $10-13/hour working between 20 to 29 hours a week. And although the position may lead to full-time work and amazing benefits, it's not guaranteed to happen.
Hiring usually starts just before Halloween. If you want to stay in the loop, you can visit Amazon's virtual job board.
2. Get paid to read books for Amazon
Did you know you can get paid to read and narrate books on Amazon?
No it's not a scam. It's a totally legit way to make money online with Amazon. Specifically, through their ACX platform.
What's ACX? It's a marketplace that connects authors/publishers with narrators to turn their books into audiobooks.
Getting started is simple…
You just have to sign up on the ACX website, browse the library of books available, choose the ones you like, submit your sample recording, and wait for the author to respond.
Basically, you're auditioning for the chance to narrate the entire book by reading a sample of it.
It may not be enough to quit your day job, but you can easily make $1,000 a month or more just for reading books.
Every job has payment details to give you an idea of your earning potential.
If you'd like to work for Amazon as a narrator, visit ACX to learn more.
3. Make money publishing on Amazon
If reading books is not your thing then you can become the author instead.
It's a great opportunity to turn your creative writing skills into passive income.
There are two ways you can do this. One is by making money with Kindle publishing from selling ebooks, and the other is by publishing paperback books.
As a Kindle publisher, you'll earn 70% royalties per ebook and 60% royalties for paperbacks.
In both cases, you also get to set the price for your book.
The best thing about this is that once you create a book, it will continue to sell without any effort on your part. It'll stay on Amazon for however long you choose to keep it there.
Since there's no limit on how many books you can create, you can keep publishing as many books as you like.
That means you can turn this into a full-time gig or keep it as a nice side hustle.
There are lots people making six figures or more selling books on Amazon.
If you want a slice of the pie, check out Amazon publishing for more details.
4. Making money with Merch by Amazon
Maybe reading and writing aren't your cup of tea. Maybe you're the artsy type who loves dabbling in graphic design. If so, then this is perfect for you.
You can use your skills to make money selling t-shirts on Amazon.
This is such an easy way to make money online yet most people don't even think about.
All you have to do is sign up, upload your designs, set your price, and submit your work to the marketplace. That's it!
Your designs can be added to a variety of merchandise such as t-shirts, hoodies, accessories, etc. These products are made available to Amazon customers worldwide.
The beauty about this gig is that you never have to touch inventory or deal with customers. Amazon does all of that.
When someone buys your merch, you'll earn a royalty for each sale. The only thing you're responsible for is creating designs and uploading them.
Yes, it's that easy and straightforward.
You can easily make $500 to over $5,000 a month selling t-shirts.
Want to learn more? Check out Merch by Amazon.
5. Make money with Amazon Associates
If you're making $10,000 a month, is that considered part-time?
Who cares what the answer is!?
All that matters is that it's totally possible for you to make that much money as an Amazon affiliate.
So what's an Amazon affiliate? It's someone who receives a commission for referring shoppers to Amazon.
Think of it this way…
Sally's looking for a stand mixer and she needs your help. You recommend the KitchenAid Artisan 5-Qt stand mixer from Target because it's perfect for her baking needs. So Sally goes to the store, buys the mixer, and is happy with her purchase.
That's the real world.
But it works the same way online. Except you'll have a website which has a special link to the stand mixer on Amazon. So when Sally clicks the link and buys the mixer from Amazon, you'll earn a commission (at no additional cost to Sally).
That's how Amazon affiliate marketing works. It's one of the best jobs for housewives.
To do this, you'll need a website or YouTube channel with some viewers.
Once you have that sorted, you can apply to the Amazon Associates program.
6. Get paid via the Amazon Influencer Program
If you've already got an established online presence with a huge following, this is a great way to make money with Amazon.
Basically, it's kinda like the Associates program, but with a few extra perks.
As an influencer, you'll get your own featured page on Amazon.
Yes, your brand will be on Amazon's website. How cool is that?
You'll also get a special URL (aka link) that you can use to promote your preferred products to your audience.
There's no denying this is a super cool way to make money online with Amazon.
While earning is easy, you do need to make sure you've got your ducks in a row before applying to the Amazon Influencer Program.
That means ensuring your social profiles and online engagement are highly appealing.
Want to learn about this amazing opportunity? Read the program details here.
7. Work for Amazon MTurk
If you're not ready to flex your entrepreneurial skills, then you can just use Amazon MTurk.
M who?
Yea, the name is super weird.
It's actually called Amazon Mechanical Turk. And it's a platform that connects individuals and businesses with home-based workers like you, to perform tasks virtually.
With MTurk, you get to make money in your spare time by doing tasks such as market research, transcribing audio, writing articles, evaluating images/video, and much more.
It's really easy to get started. You just have to sign up as an MTurk worker on Amazon.
After that, you can start applying your skills to the thousands of available tasks in the MTurk marketplace.
One of the best things about being an MTurk worker is that it's totally flexible.
You don't have to work on a fixed schedule or set hours per week. It's kinda like Uber, but for tasks.
You can definitely earn at least $1,000 a month as an MTurk worker.
If this is the kind of part-time job you'd like, click here to check out Amazon MTurk.
Bonus Amazon Work From Home Opportunities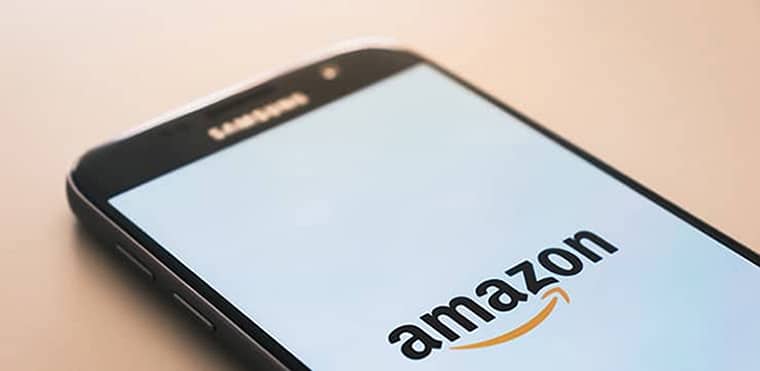 You've already got some great Amazon seasonal work from home jobs to choose from.
But these bonus opportunities are included just so you have an idea of all the ways you can make money with Amazon to boost your income.
8. Do retail arbitrage with Amazon
Do you have a knack for finding amazing shopping deals and low prices?
Then you can parlay that into a nice side hustle from home.
Retail arbitrage is basically buying products for a low price and re-selling them online for a higher price to make a profit.
For example: you might find a board game for $8 at your local thrift store. Then you look it up on Amazon and see that it's selling for $24. So you buy it and list it for sale on Amazon. When it sells, you get paid more than double your initial investment.
Now here's the cool part about selling on Amazon with this method, it's totally hands-off.
Basically, you'd ship the board game to an Amazon warehouse. And when someone buys the item, Amazon handles the entire process of shipping it to the customer. They even handle returns too!
As you can imagine, this is a great way to make money online. All you have to do is buy products, send them to Amazon, and get paid when they sell.
You can find out more about being an Amazon seller here.
9. Private label selling on Amazon
This is another way to make money selling on Amazon.
Some people have turned it into a high-paying career.
Just like retail arbitrage, you ship products to Amazon and they take care of everything.
The only difference here is you're not selling a random product… you're selling a product that you created or had manufactured.
For example: if you make bath bombs, you might call them Blissful Bath Bombs. And this is considered a private label product.
The biggest benefit of private labeling is the profit factor.
Since it's your product, you'll make more money. The only expenses are manufacturing costs and the fees Amazon charges to store and ship the item.
As lucrative as this is though, you should only consider it if you're really serious about making lots of money.
Most people usually start out with retail arbitrage to get a taste for what it's like to sell on Amazon. Then when they raise enough money, they invest it in creating their own products.
So think about that before making your decision.
Interested in becoming an Amazon private label seller? Click here to learn more.
The Best Amazon Seasonal Work From Home Jobs
You now have a list of Amazon seasonal work from home jobs to choose from.
They may not be the traditional part-time jobs you were hoping for, but they're definitely a lot more stable, fun, and high-paying.
The only thing left do now, is choose the one that suits you best and get started.
Speaking of finding the one… there are many other people would also like to find new ways to make extra money with Amazon. And this post could totally help them.
So let's make sure they find it. Click the buttons below to start sharing this post now.