To open a brokerage account with Robinhood, you need to sign up through their website or mobile app.
Once your application is approved and you've funded your account, you can start trading stocks, options, and crypto on Robinhood.
Speaking of trading, Robinhood has zero commissions. That means all of your trades can be done without any brokerage fees.
You'll also get a free debit card when you join Robinhood. It has zero transaction fees. So you can use it at various ATMs or make purchases in the US and overseas, without penalty.
Cool perks aside, creating a Robinhood account is pretty simple. However, simple isn't always easy.
So in this guide, you'll learn step-by-step how to open a brokerage account with Robinhood.
Beginner's Guide to Opening a Robinhood Account
If you prefer written instructions, just keep reading…
This guide will show you how to sign up for Robinhood using the Android mobile app.
Here are the steps to get started:
1. Download the app
Download the Robinhood app from the App Store or the Google Play Store.
2. Sign up
Open the app and you'll be greeted by a welcome screen…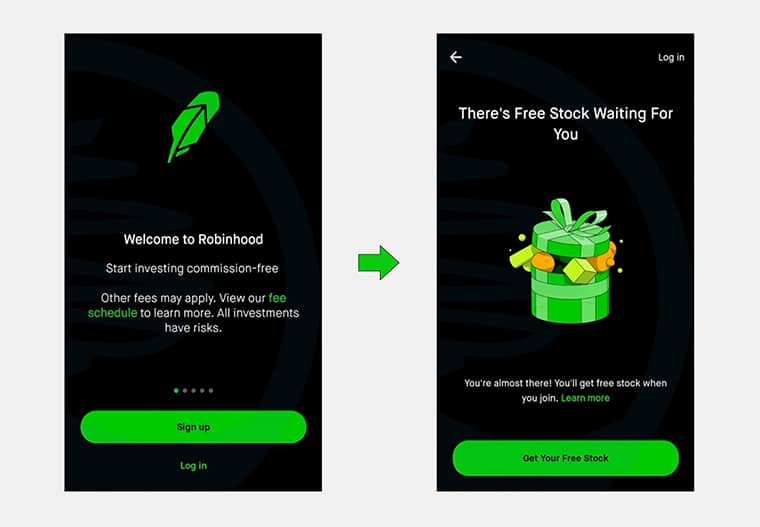 If it's your first time creating a Robinhood brokerage account, you'll get a notice about free stock. (This offer is only available to new Robinhood investors.)
Tap the "←" arrow or the "Get Your Free Stock" button to proceed.
Optional: If you want to read about Robinhood, you can swipe left to see the following screens…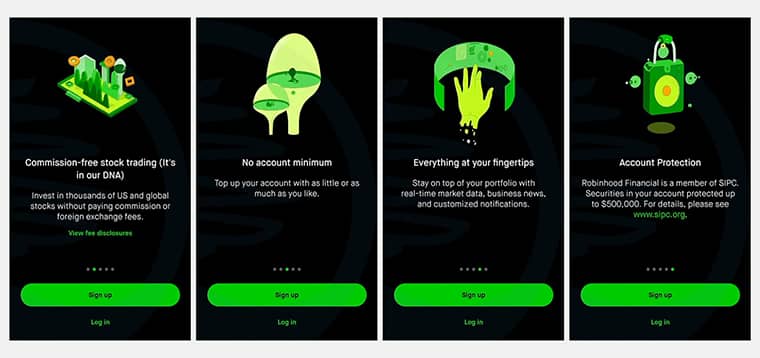 When you're done, press the "Sign Up" button to continue.
3. Enter your email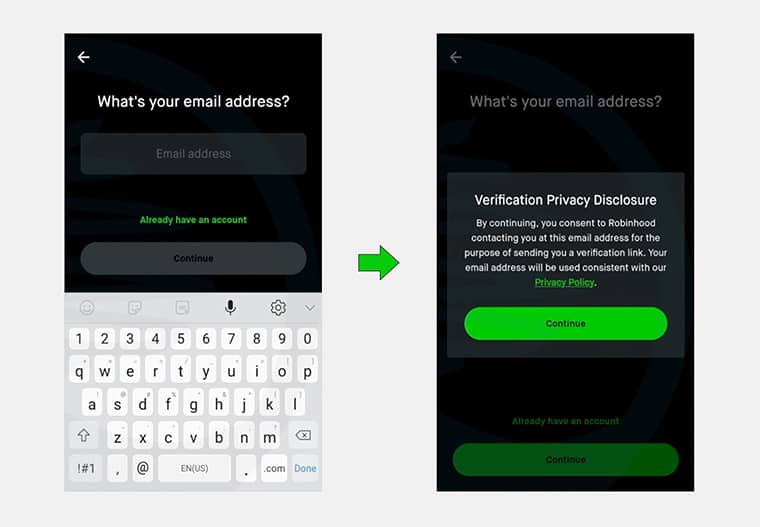 Input your email address then press the "Continue" button…
You'll get a Verification Privacy Disclosure popup. Read it. And if you want more info, tap the "Privacy Policy" link.
Otherwise, press "Continue" to close the popup. Then do it once more to proceed.
4. Add a password
Create a password for your Robinhood account.
Here are some tips for a strong password:
DON'T

use "password" as your password. Not only is it dumb, but you can easily get hacked and lose your investments.
AVOID

using things such as birthdays, familiar names, places, etc. Someone who knows enough about you can guess those things, access your account, and steal your monies.
DO

use a combination of letters, characters, and numbers for maximum security e.g. $Mo0ThBr@!ns420*69
5. Enter your name and number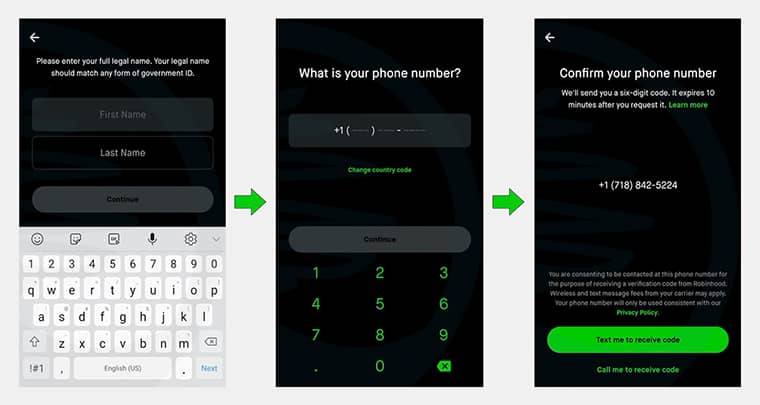 Fill out your first and last name then tap "Continue."
Enter your phone number and press "Continue" again.
Next, you'll need to confirm your number.
Choose either Text or Call to receive a 6-digit code.
6. Verify your number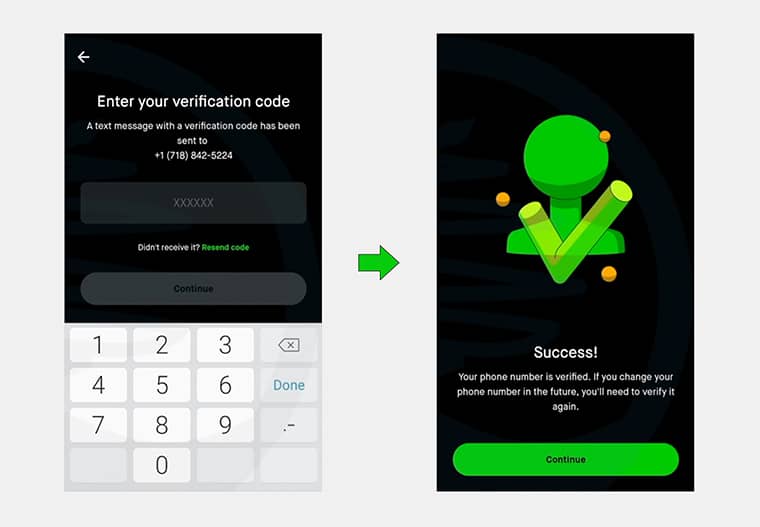 Enter the verification code you received.
If it works, you'll get a Success notification.
Press "Continue" to move on.
7. Input your birth date and address
Enter your date of birth then tap the "Continue" button.
Next, fill out your address details to proceed.
8. Verify your citizenship and SSN
Select your citizenship from the list.
Enter your social security number then press "Continue."
9. Specify your investment experience
Choose the option from the list that reflects how much investment experience you have.
If you'd like to trade options on Robinhood, you can enable it here.
Tap Yes or No to continue.
10. Add your employment details
Select your employment status from the list by tapping on it.
Next, fill out your employment info then press the "Continue" button.
11. Disclose your insider status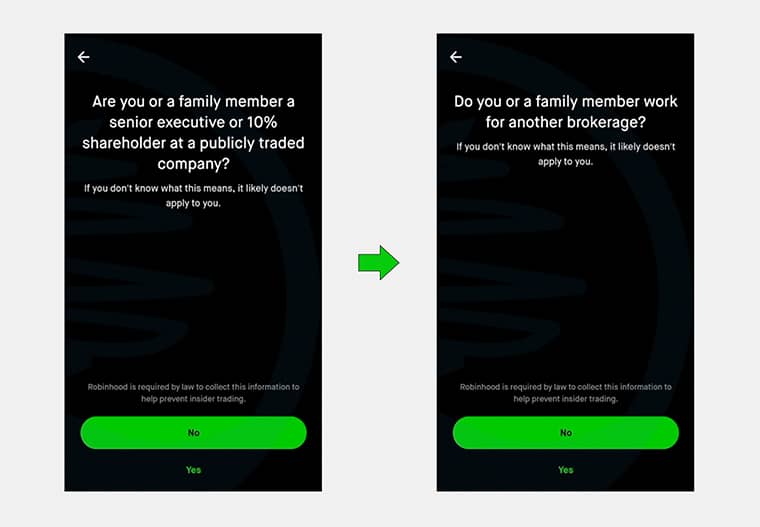 By law, Robinhood is required to ask you these two questions to prevent insider trading.
Answer both of them to proceed.
12. Certify and submit your application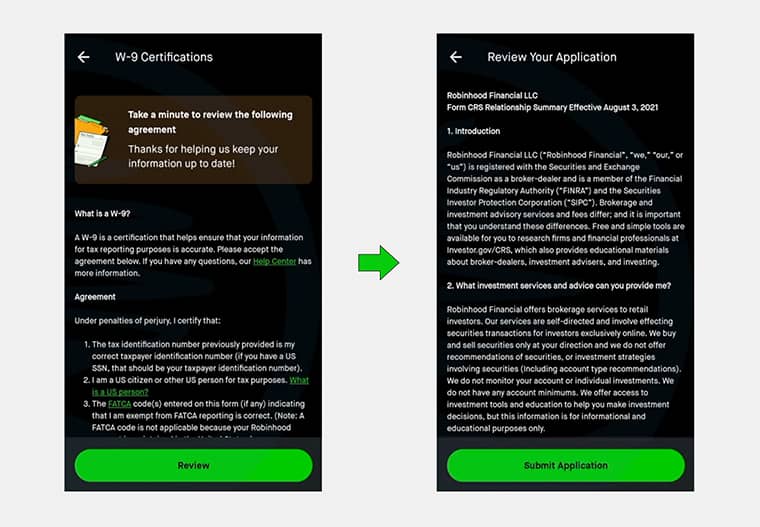 Read and acknowledge the W-9 Certification for tax purposes.
Then, review your application and press "Submit Application" to continue.
13. Link your bank account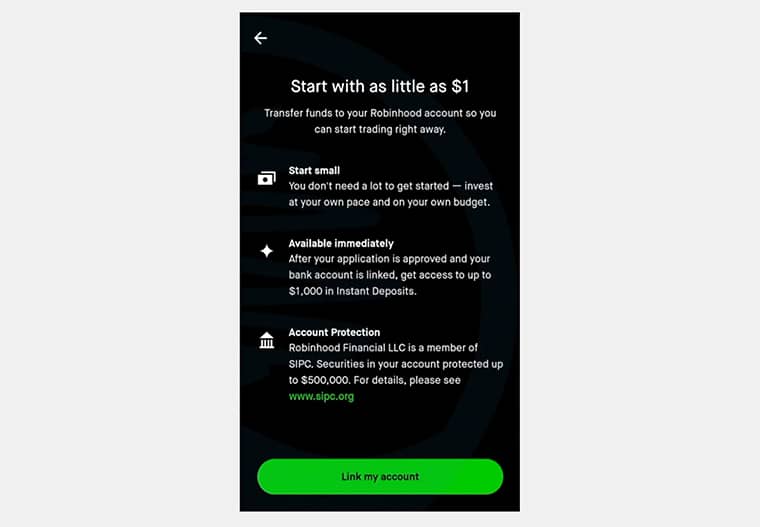 Press the "Link my account" button to connect your bank account to Robinhood so you can transfer funds.
Read how Robinhood links your bank, then press "Continue" to proceed.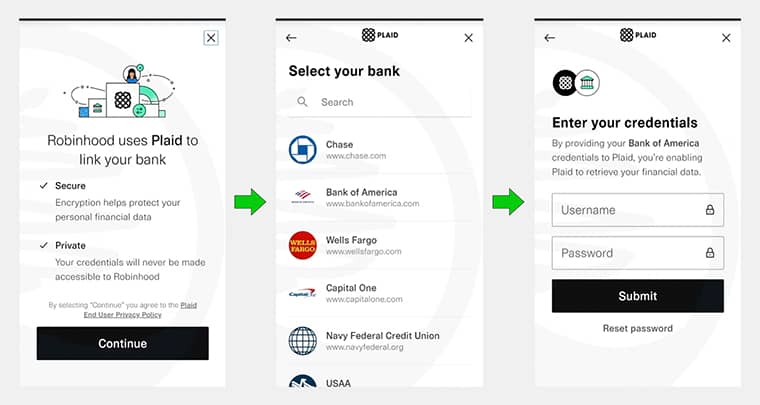 Scroll through the list to find your preferred bank, then tap on it.
Next, enter your bank login credentials then press the "Submit" button.
Note: For this guide, we'll skip the bank setup for later. If you want to skip it, just tap the "✕" in the top right corner, then press "Yes, exit."
14. Secure your account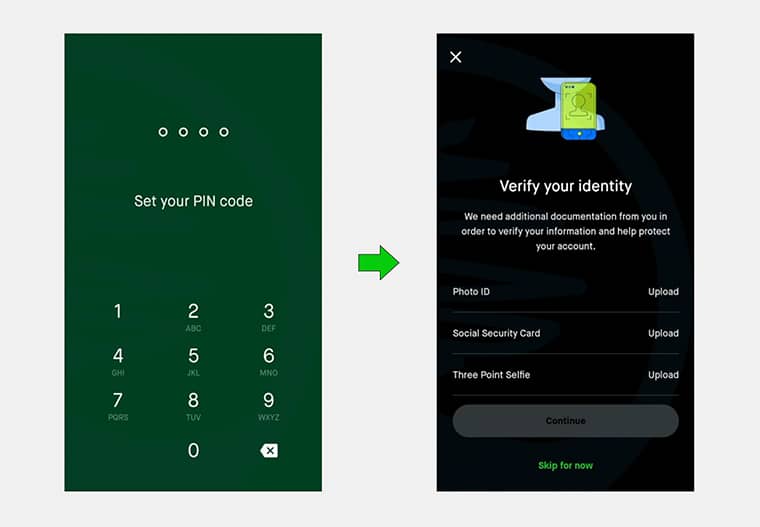 Create a 4-digit PIN which you'll use to access your Robinhood account.
Next, upload any additional documentation to verify and protect your account.
Press "Continue" when done.
Note: For this guide, we'll choose "Skip for now" since you can do this part later.
15. Wait for approval
This is the last step in the process.
You won't be able trade until your account is approved by Robinhood in a few days.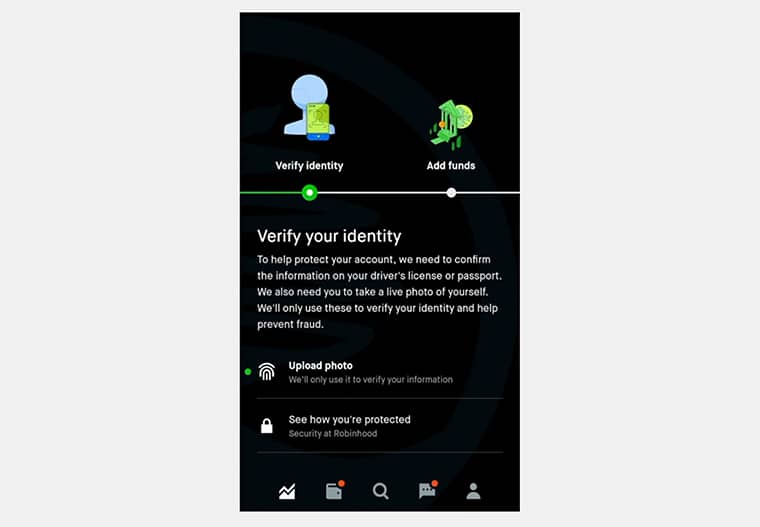 In the meantime, you can complete any pending steps you see in your dashboard.
Otherwise, use the menu to explore the Robinhood app or visit the website to learn more.
What's Next?
Well, you've just learned how to open a brokerage account with Robinhood.
But since it's gonna take a few days to get approved, now's probably a good time to research any companies you'd like to invest in.
You can also check out some of our tutorials on how to buy shares of Amazon, Tesla, Microsoft, and other popular companies.
And if you want to get smarter about money, here's a list of personal finance books that are worth reading.
Anyway, that's all for now. Hit the buttons below to share this post and help others learn how to open a Robinhood account.