Want to get paid for doing nothing? How about making money while you sleep?
If you do, then get ready. You're about to learn how to invest $1,000 and make money like a millionaire.
No. This isn't some elaborate scheme to steal your money. You don't have to worry about getting pitched some secret money-making method or expensive course either.
What you're about to discover is a proven wealth-building strategy that rich people have been using forever.
Basically, it involves creating passive income by investing in assets that are designed to help you grow your money safely and consistently.
In this post, you'll learn how you can start investing with a small amount of money to create additional streams of income.
Sound good? Ok, let's get started.
How to Invest $1,000 and Make Money The Smart Way
When it comes to creating passive income, you need one of two things: time or money.
Those are the biggest factors that will influence your income goals.
Since your time is limited, it's your most precious asset. Therefore, you need to be super smart and cautious about how you use it.
By contrast, money is infinite. You can always get money. If it runs out, your government will just print more. Heck, they even destroy it sometimes. Thus, money is your most powerful and abundant asset.
Of the two, it is far easier to start creating passive income with money. That's why you'll often hear the phrase — "it takes money to make money."
Unfortunately, most people think you need to start off with a million dollars or be born rich. But that's just a lame excuse. The truth is, you can start building passive streams of income with any amount.
NOTE: You can't magically go from zero to $10,000 a month passive income overnight. Anyone who says otherwise is straight up lying to you and trying to take your money.
So, if you want to avoid being scammed, then keep reading to discover the best ways to invest $1,000 so you can earn passive income.
7 Easy Ways to Invest $1,000 and Make Money
While starting a blog, youtube channel, or other online business can make you money, they all require massive effort. So we'll just skip them and focus on the best passive investments you can make with ease.
1. Buy dividend growth stocks
Some people say that owning dividend stocks is by far the most easiest and best way to create passive income with $1,000.
Coincidentally, the folks who believe this are usually high net-worth individuals who've built (and continue to grow) their wealth passively using dividend investments.
What makes dividend stocks so amazing is their ability to multiply the power of exponential growth. It's a theory used to describe increases that occur in proportion to what's already there.
Here's a simple example to give you a better idea of just how powerful it is…
Let's say XYZ company has a stock price of $40 and a 3% dividend.
With $1,000 invested, you'll own 25 shares of XYZ (1000 / 40 = 25). And for the first year, you'll earn $30 from those dividends (40 x 3% x 25 = 30).
Make sense so far? Cool. Now here's where things get really interesting…
Assuming both XYZ's stock price and dividend increase by a modest 4% per year, your initial $1,000 investment will return the following amounts over time: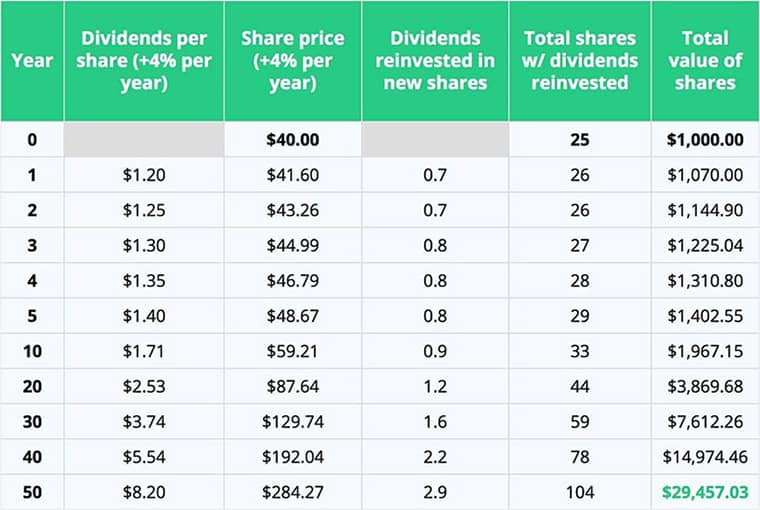 As you can see, you'll benefit from a whopping +2800% increase in 50 years!
Not only will your money grow, but you'll accumulate more shares of XYZ company and benefit from the rising dividend. That's the power of compounded exponential growth.
And guess what? This is a super conservative example. Why? Because it assumes you'll just invest $1,000 and forget about it.
Now imagine if you were to consistently add an extra $1,000 to that investment every year. Or better yet, imagine buying other stocks that grow beyond the conservative 4% in our example. The returns would be mind-boggling!
If this doesn't convince you that dividend growth stocks are the easiest way to make extra money, then you're probably allergic to wealth.
However, if you want massive returns, you can invest that $1,000 today. All you need is to open a trading account, fund it, then purchase a quality dividend growth stock.
While you'll need to do some research before investing in a company, setting up your account won't take more than 20 minutes. You can start investing now with one of these recommended online trading platforms:
2. Invest in index funds
Famed investor Warren Buffet is well known for recommending index funds to new investors. That's because these funds are ideal for long-term savings and offer broad exposure to companies in various industries.
The Standard & Poor's 500 Index (a.k.a S&P 500) is probably the best example of an index fund that most people know. It's made up of the top 500 companies in the stock market e.g. Google, Amazon, Facebook, etc. (see full list here).
Basically, the fund tracks the companies in its portfolio and seeks to match their performance. So instead of buying each individual company, you can invest $1,000 in the S&P 500 index and benefit from historically consistent returns.
Another benefit of investing in funds like the S&P 500 is that they pay dividends. It's one of the reasons why so many people consider these funds to be an ideal part of their retirement accounts. They get to reinvest their earnings and let it compound.
Now, although you won't be making millions from your initial investment, index investing is still a great way to make passive income. It lets you invest in multiple stocks, pays dividends, and saves you from having to find good companies on your own.
Buying an index fund is just as simple as buying stocks. If you have a retirement account, you can use that. Or, you can use one of these recommended online brokers:
3. Invest with a robo-advisor
If the thought of picking your own stocks or index funds sounds intimidating, then you might prefer using a robo-advisor.
These are robot-powered investment managers that automatically invest your money based on your preferences. They use your input to set up a customized portfolio to satisfy your investment goals.
One of the best robo-advisors for this type of passive investing is Betterment. Using their service, you can invest $1,000 and the software will buy shares in a group of globally diverse companies.
Betterment's low fees and zero account minimums make them ideal for beginner investors (and pros) who prefer a more hands-off investing approach. Plus, it saves you from the predatory tactics and sales pitches used by traditional financial advisors.
If those benefits appeal to you and you want an easy way to invest $1,000, then click here to open your free account with Betterment.
4. Invest in real estate online
So you're probably thinking there's no way you can invest in real estate with just $1,000.
Well guess what? Now you can invest in real estate without buying a house and still earn passive income.
Say hello to Fundrise. They're pioneers in the world of online real estate investing platforms.
Fundrise makes it it easy for you to invest in real estate across the country without having to worry about getting a mortgage, owning property, or dealing with banks. But that's not all…
The best part is, you can start investing with as little as $500!
That's right. Even if you're not an accredited investor (a.k.a. rich and worth $1 million), you can still make money with real estate.
Investing with Fundrise will give you access to impressive annual returns. On average, members earn around 8-12%+ annually on their investments. That kind of return makes your bank's 0.06% savings account interest rate look like a welfare case.
If you're wondering how everything works, it's simple. You start by choosing an account and investment strategy. Fundrise designs a portfolio to meet your goals. And you make money based on the performance of the properties in your portfolio.
In terms of accounts, $500 gives you access to their Starter Portfolio. However, with $1,000, you can upgrade to one of their Core plans to unlock greater investment options. As for the Premium plans, those are for wealthier investors, so just skip them.
If you're looking for an easy way to invest in real estate without being a landlord, Fundrise is the answer. It's free to join and you only pay when you're ready to invest.
Click here to sign up and explore Fundrise now.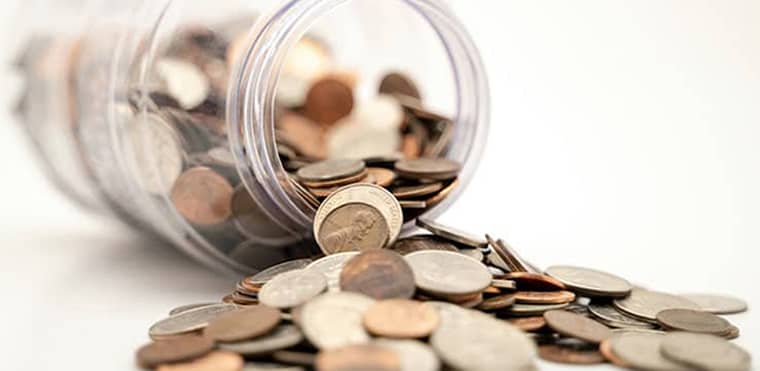 5. Open a high yield savings account
Did you know you can make money by saving money?
If you didn't, that's because you're accustomed to the poor savings account interest rates (0.06%) offered by most commercial banks.
Thankfully, you can easily open a high-interest online savings account to take advantage of rates that are 1000%+ greater than what you're currently getting.
Most banks offering these type of high yield savings accounts are online banks. That's how they're able to pay you at least 1% interest on your savings.
One of the best online savings accounts is the CIT Bank Savings Builder. With interest rates that vary from 1-1.80%, it's easy to see why so many people love it.
Even the fees are a bonus. Why? Because, unlike big banks that try to charge you all kind of "service" fees, CIT Bank has zero fees.
Once you open your account and fund it, just set up recurring monthly deposits and you're done. Your savings will compound and you'll never have to lift a finger — unless you want to add more money to your account.
Having a high yield savings account is definitely an easy way to earn passive income. And if your bank is offering interest rates below 1%, then it's time to switch.
Click here to open your high yield savings account with CIT Bank.
6. Use Airbnb to make money
Own a house, apartment, or condo? Then you should consider renting it out on Airbnb.
The platform lets you list your spare room, basement, or entire house for rent on a short or long-term basis.
Compared to the other passive income ideas listed here, this one does require a little effort on your part. But using Airbnb is definitely a good way to make money without having to invest $1,000.
Now, while most Airbnb hosts may view their rental income as spending money, the smart ones consider it a wealth-building tool. Here's why…
Instead of making $1,000 a month and blowing it at the mall, some people are using the money to purchase dividend stocks or invest in real estate online. By doing this, they're diversifying their income and creating additional revenue streams.
Of course, you're free to do what you want with your money. Maybe you've got some student loans or credit-card debt to pay off. Whatever you decide is totally up to you.
Overall, renting out your home is definitely a smart way to make money. And, if your goal is to achieve financial security, then you should definitely consider becoming an Airbnb host.
To get started, just click here to join Airbnb.
7. Rent your car for money
Have a car you barely use? That's another asset you can earn passive income from.
Just like with renting out rooms in your home, you can also rent out your car.
Turo is the app that helps you do this. It's like the Airbnb for cars. You get to share your car with guests who prefer alternatives to rental car agencies.
Compared to a house, most cars are depreciating assets. So renting it is a great way to offset that cost. And if your car is paid off, then your only expenses will be insurance and maintenance.
As for your concerns about accidents or theft, there's no need to worry. Turo screens every guest on its platform. They also provide 24/7 assistance and offer up to $1 million in liability insurance to ensure your safety and protection.
Now, while making money with Turo is great, how you use the earnings is equally important. You should consider putting it into other passive investments to create multiple streams of income. It's another way to set yourself up for financial freedom.
Regardless of your choices, the best choice you can make right now is to turn your car into a money maker. To learn more, click here to get started with Turo.
Now is The Best Time to Start Investing
If you really want to invest $1,000 and make money, then you should start today.
You don't need to wait for the perfect moment. The sooner you invest your money, the faster it'll start working for you.
Besides renting your property, the other passive investments in this post require zero effort to get started. You can set them up in minutes and never worry about them again.
Unfortunately, most people think investing is hard and scary. But it's not. In fact, if they read this post like you did, they'd see how easy it is to invest. So let's help them find it.
Click the buttons below to share this list so others can learn how to invest $1,000 now.