Some movies have powerful phrases that can inspire you to take action.
Whether it's drama, romance, or fantasy, this collection of movie quotes about getting things done can help boost your productivity.
That might seem crazy, but some of these quotes have inspired people to do amazing things in life.
So, if you're struggling to get stuff done, take a few minutes to read these quotes. Who knows, maybe you'll find a quote that gets you fired up to crush your tasks.
Now, without further ado, here are the…
50 Movie Quotes About Getting Things Done
These are some of the best quotable movie lines that can inspire you to be more productive and complete your tasks.
1.
"Don't tell me I can't do it. Don't tell me it can't be done!"
2.
"The only way to get what you want in this world is through hard work."
3.
"I like the idea of me doing my job, more than the idea of someone else doing my job."
4.
"Don't feel overwhelmed… just do one thing at a time."
5.
"I now do what other people only dream."
6.
"I work hard for this. I want you to know that."
7.
"The hardest choices require the strongest wills."
8.
"All we have to decide is what to do with the time that is given to us."
9.
"You want something done, you've got to do it yourself."
10.
"I never suppose, I simply prepare for everything."
11.
"It comes down to a simple choice really: Get busy living… or get busy dying."
12.
"Unless you get out there and you try to do it, you'll never know. That's just the truth."
13.
"I just finally know what I have to do. And I know in my heart that it's right."
14.
"There's no problem that can't be ignored if we really put our minds to it."
15.
"I would rather take my chance out there on the ocean, than to stay here and die."
16.
"It doesn't matter who we are… what matters is our plan."
17.
"I do not regret the things I've done, but those I did not do."
18.
"It's what you do right now that makes a difference. It's your call."
19.
"I choose to run toward my problems and not away from them."
20.
"Do. Or do not. There is no try."
21.
"Even if there's a small chance that we can undo this… I mean, we owe it to everyone who's not in this room to try."
22.
"The way this works is… you do the thing you're scared shitless of, and you get the courage after you do it — not before you do it."
23.
"I'm a dog chasing cars. I wouldn't know what to do with one if I caught it! You know, I just… DO things."
24.
"You have to do everything you can. You have to work your hardest. And if you do, if you stay positive… you have a shot at a silver lining."
25.
Inspirational Disney movie quote.
"You must set your sights upon the heights, don't be a mediocrity. […] Don't just wait and trust to fate, and say 'that's how it's meant to be'. It's up to you how far you go, if you don't try you'll never know. And so my lad as I've explained… nothing ventured, nothing gained."
26.
"The people who are crazy enough to think they can change the world… are the ones who do."
27.
"Give me a minute, I'm good. Give me an hour, I'm great. Give me six months, I'm unbeatable."
28.
"When you can do the things that I can, but you don't… and then the bad things happen, they happen because of you."
29.
"Life's not a spectator sport. If watching is all you're gonna do, then you're gonna watch your life go by without ya."
30.
Movie quote about perseverance.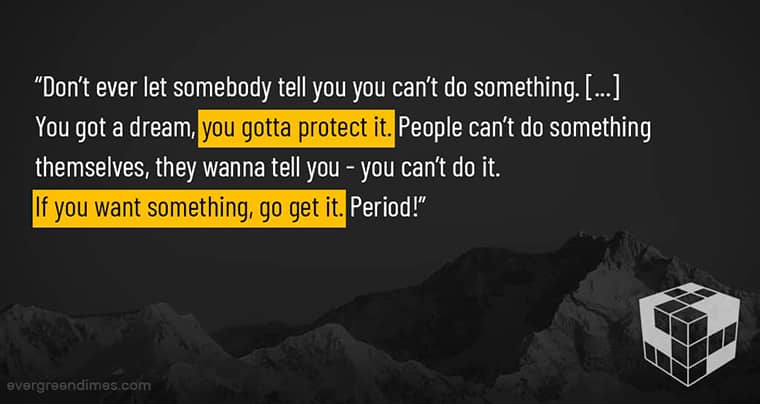 "Don't ever let somebody tell you you can't do something. […] You got a dream, you gotta protect it. People can't do something themselves, they wanna tell you – you can't do it. If you want something, go get it. Period."
31.
"It's about respect. It's about looking in the mirror and knowing that you've done something valuable with your day."
32.
"There's right and there's wrong. You gotta do one or the other. You do the one and you're living. You do the other and you may be walking around, but you're dead as a beaver hat."
33.
"I know what I have to do now. I've got to keep breathing because tomorrow the sun will rise. Who knows what the tide could bring?"
34.
"You're gonna have to go through hell, worse than any nightmare you've ever dreamed. But in the end, I know you'll be the one standing. […] You know what you gotta do. Do it."
35.
Persistence movie quote.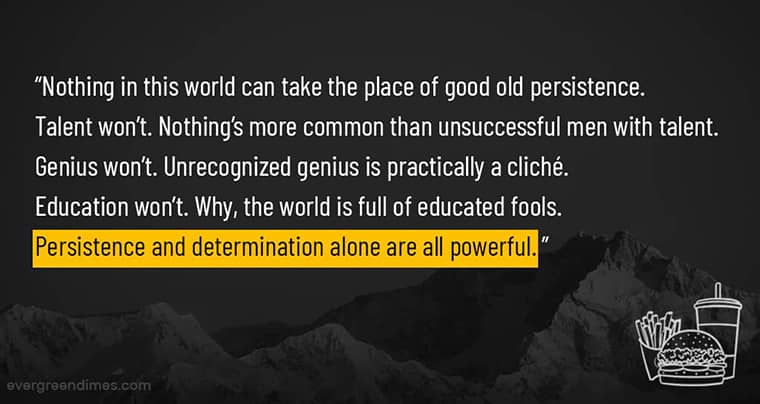 "Nothing in this world can take the place of good old persistence. Talent won't. Nothing's more common than unsuccessful men with talent. Genius won't. Unrecognized genius is practically a cliché. Education won't. Why the world is full of educated fools. Persistence and determination alone are all powerful."
36.
"You did the hardest part, you took the jump, you didn't know where you were gonna come down. And that's it. That's those little brave baby steps you gotta take."
37.
"Do not tell me it can't be done."
38.
"You're gonna work harder than you've ever worked before. And the only thing I ask from you is… ganas — 'desire'."
39.
"However bad life may seem, there is always something you can do, and succeed at. While there is life, there is hope."
40.
Movie quote about perseverance.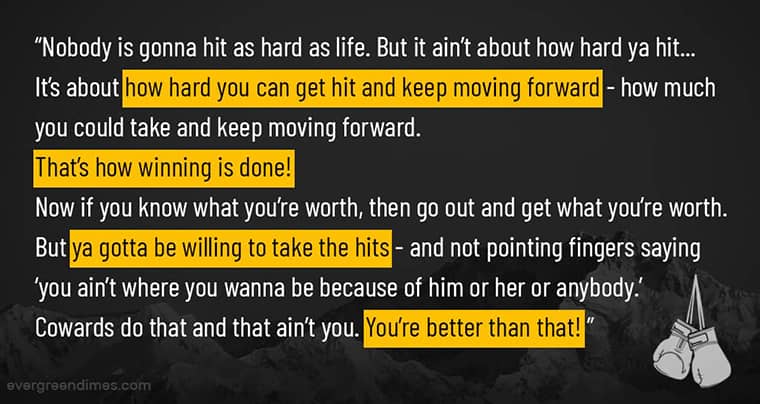 "Nobody is gonna hit as hard as life. But it ain't about how hard ya hit… it's about how hard you can get hit and keep moving forward – how much you could take, and keep moving forward. That's how winning is done! Now if you know what you're worth, then go out and get what you're worth. But ya gotta be willing to take the hits – and not pointing fingers saying 'you ain't where you wanna be because of him or her or anybody.' Cowards do that and that ain't you! You're better than that!"
41.
"Well begun is half done."
42.
"In the face of overwhelming odds, I'm left with only one option. I'm gonna have to science the shit out of this."
43.
"We can stay here, get the shit kicked out of us, or… we can fight our way back into the light. We can climb outta hell — one inch at a time."
44.
"You cannot hesitate. The only thing worse than being incompetent, or being unkind, or being evil is… being indecisive."
45.
Movie quote about choices.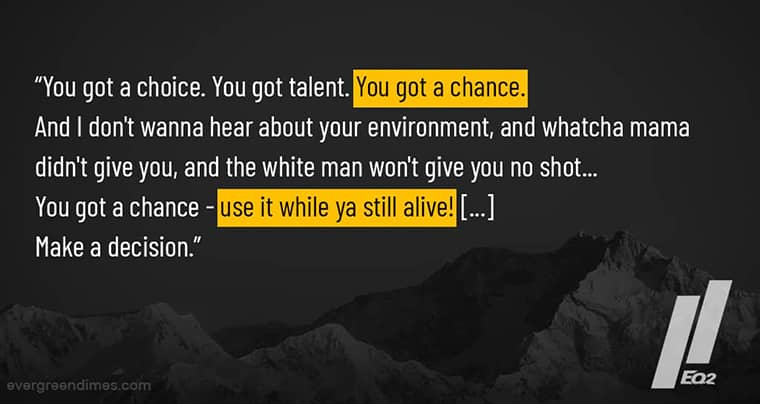 "You got a choice. You got talent. You got a chance. And I don't wanna hear about your environment, and whatcha mama didn't give you, and the white man won't give you no shot… You got a chance – use it while ya still alive! […] Make a decision."
46.
"All we can do is our best. And sometimes the best that we can do is to start over."
47.
"Talent is a common thing. People waste it every day. They abuse it. They take it for granted. Success comes not from what God has given you, but what you do with it. It's really up to you."
48.
"In every job that must be done, there is an element of fun. You find the fun and… snap! The job's a game!"
49.
"Can't rely on anyone these days, you gotta do everything yourself, don't we? That's ok, I came prepared."
50.
Roll The Dice – Charles Bukowski movie quote.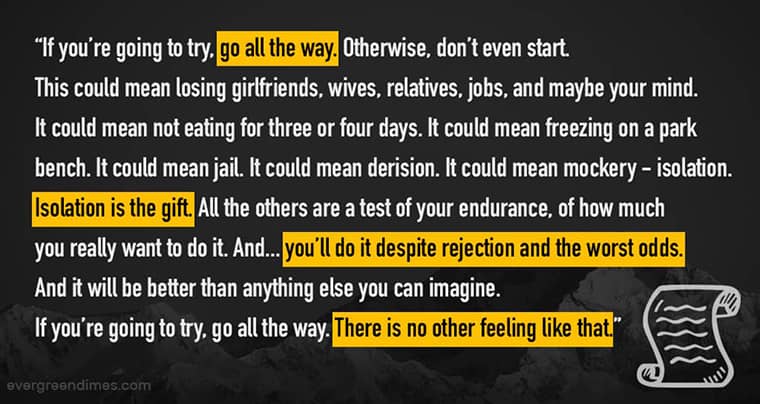 "If you're going to try, go all the way. Otherwise, don't even start. This could mean losing girlfriends, wives, relatives, jobs, and maybe your mind. It could mean not eating for three or four days. It could mean freezing on a park bench. It could mean jail. It could mean derision. It could mean mockery – isolation. Isolation is the gift. All the others are a test of your endurance, of how much you really want to do it. And… you'll do it despite rejection and the worst odds. And it will be better than anything else you can imagine. If you're going to try, go all the way. There is no other feeling like that."
Final Take
If you're a film junkie, you probably recognized some of these movie quotes about getting things done.
If not, then you need to step up your movie-watching game.
Jokes aside, you should consider writing down any quote(s) you liked and put it somewhere you can see it often. That way you can look at it anytime you're feeling unproductive.
Speaking of unproductive, there's a lot of people that feel the same way. So click the buttons below to share this post and inspire them to do stuff too.