If you're a military spouse looking for work from home jobs, this post will become your new favorite thing.
Whether you want to feel a sense of independence, purpose, or need a second income to support your family, you've come to the right place.
There's no fluff here.
No DoD reports telling you how almost 90% of military spouses want or need to work…
No puff pieces about some Fortune 500 company that joined MSEP to increase your job opportunities…
No questionable "direct sales consulting" jobs. You know, the kind where a company asks you for money to represent their products. And then you try to sucker your friends and folks on social media into buying. #antiMLM…
And mostly, there's no overwhelming list of 100+ work from home jobs to make you feel so anxious you don't even read it.
Here's what's going to happen in this post:
I'm going to share a simple list of work from home jobs for military spouses with you, briefly explain each one, then quickly answer three questions you'll have.
Sound good?
Okay. Let's dive in.
21 Work From Home Jobs for Military Spouses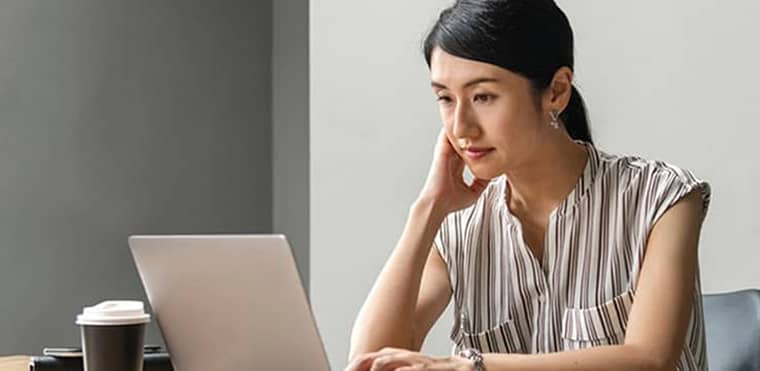 You don't need a 9-to-5 to earn a living. With these jobs, you can do that from home, on your own time, and for more money. Here's how:
1. Start blogging from home
It's no secret that blogging has the potential to give you the lifestyle of your dreams.
As a blogger you not only get to work for yourself, you can also work from home or wherever the military sends your family.
Although it's easy to start blogging, most people give up because they fall into the trap of comparing themselves to successful bloggers. They want to make money overnight.
That's like going to a new job and asking for a raise on your first day. #fail
The reality is, you can start a blog and make $1,000 a day or more.
You just need two things: a positive mindset and a relentless work ethic.
Shocking right? Seems like the exact qualities you need to succeed at anything in life.
It's possible for you to become a full-time blogger. The real challenge is sticking with it through the adversity.
But if you respect the process and have a willingness to learn, you'll easily become successful.
2. Sell products on Amazon
Like most people, you've probably shopped on Amazon before. You might even have a Prime account.
But did you know you can actually make money selling your own products Amazon?
Yes, you can!
Using Fulfillment By Amazon. Or, as it's more popularly called, Amazon FBA.
Here's a quick overview of how it works:
You find or design a product to sell
You pay a manufacturer – in the US or elsewhere – to make the product
You ship the units to Amazon's warehouse
People buy your product and you watch the money pile up
Rinse and repeat
Selling on Amazon can give you an almost passive source of income.
That means you never have to worry about your next paycheck. And your income can grow to well over six-figures.
You can also do this from anywhere in the world, without worrying about customers, inventory, or shipping. Because Amazon and your supplier will take care of that.
It may sound like a lot to wrap your head around, but once you learn how to set it up, you'll see how simple it is.
With the right systems in place, you can literally build a million-dollar business!
3. Become a dropshipper
Being a dropshipper is almost similar to selling on Amazon.
The difference is, instead of selling your own products, you'll be selling other branded or generic stuff.
In order to do this, you'll need to:
Find a product or set of products to sell
Get a supplier to dropship those products
Create an e-commerce website to list those products
So let's say you decide to sell portable high chairs for 2 year olds.
When someone orders a chair from your website, you'll send the customer's order details to the supplier. The supplier then ships it to the customer directly.
As you can see, the process is simple. It's completely hands-off.
You only need to spend a few hours on your laptop each day to make money with dropshipping.
Some people prefer to start off with dropshipping so they can test the demand for a product, raise capital, and then create their own branded items.
4. Get paid to take surveys online
If you're just looking for a quick way to make some money on the side, paid online surveys are perfect for that.
Although it's not your typical work from home job, it's not a bad way to make an extra $500 a month.
For some people that's enough. Especially if you've got other responsibilities preventing you from full-time work.
The true beauty of paid surveys is that you don't need any experience to do it.
In fact, you can do it while watching TV or lying in bed. It's probably one of the easiest work from home jobs available.
Using a site like Survey Junkie, companies are able to get feedback on products from consumers like you.
That means you can determine the success of a product and get paid for it. And all you have to do is click your finger. Not bad, eh?
Wanna make some money fast? Click here to start using Survey Junkie now.
7 Best Jobs for Military Spouses Overseas
Finding a job overseas is worse than pulling teeth. Here are some jobs you can do no matter what country you end up in.
5. Teach Chinese students english online
Here's a fun fact: There are over 300 million young people in China, many of whom want learn English.
Now here's a shocking fact: The country has less than 85,000 qualified English teachers.
I'll spare you the math. That's 1 teacher for every 3,529 students!
Given those astonishing numbers, it's no surprise that English teachers are in super high demand.
This has resulted in companies like VIPKID emerging to fill the learning gap.
VIPKID allows you to teach Chinese students English online. And you can earn as much as $22 an hour doing it, right from your laptop.
This is a great job if you've got a college degree.
Your field of study doesn't matter either. There are people with Art degrees making a full-time living teaching English online.
If you have a desire to teach young people English online, I recommend you join VIPKID to get started.
6. Become a virtual assistant
Commonly referred to as "VA" (not to be confused with Veteran Affairs), this job is popular among folks in the work from home community.
Maybe it's because you can earn between $30 and $100 an hour. Or maybe it's the fact that you can do it from pretty much anywhere.
Whatever the reason, becoming a VA is all about your skills and expertise.
Even if you have zero experience, you can still find a VA job. You can do research, customer support, simple admin tasks, and more.
As a VA you also have the freedom to work with multiple clients. There are no commitments. So if one client sucks, you can ditch them and find another one.
Being a virtual assistant is a good job for military spouses overseas. Almost any skill you have is in high demand by some company.
If you're interested, I recommend checking out Upwork. It's a great platform for VA jobs.
7. Provide translation services for documents
Are you bilingual? Then you should consider working as a translator.
With pay ranging between $35 and $80+ an hour, it's a great way to monetize your linguistic ability.
And since this isn't a normal job, having a degree or experience isn't necessary.
When companies (or the government) need stuff translated, they hire people like you because it's much more efficient.
In most cases you'll be translating audio or interpreting it. But if you're able to write in other languages, you'll find no shortage of clients.
Being able to write and speak multiple languages makes you a lot more valuable. That means higher pay.
It's definitely one of the more easier jobs to have. If you're interested in doing it, check out these platforms:
You can create a profile on both sites to get notifications for future jobs.
8. Offer social media marketing services
Like it or not, social media is here to stay. And it offers a huge opportunity for you to make money online.
As a social media marketer, having just one client can make you at least $2,000 a month.
Can you imagine what it'd be like if you only had 5 clients? It's truly an amazing opportunity.
The reason this is so lucrative is because businesses have a desperate need for local digital marketing.
That's what brings them customers. And customers are the lifeblood of their business.
Most business owners are not social media experts.
So this creates an opportunity for someone like you to offer your services to them, for which they'll gladly pay.
Now, you probably have more experience than most when it comes to using Facebook, Instagram, etc.
That puts you in a great position. And you don't need a college degree to do this either.
All you need is the right training to learn how to get started with social media marketing.
This will teach you how to set everything up, get clients, and run it efficiently from wherever you are.
Interested in becoming a social media marketer? Click here to learn more.
9. Tutor students online
If you enjoy helping others succeed, can explain things clearly, and have as much patience as a Tibetan monk, you'd make an amazing tutor.
As an online tutor, everything is done via a computer and video-chat interface.
You can expect to make $10 to $15 hourly or more.
Also, with regard to subjects, you're free to choose what you want to teach.
However, in order to teach, you'll need to have a college degree or be currently enrolled in college.
You can find many online tutoring companies to join. Here are two that I discovered:
Make sure you check out both to decide which you like better.
10. Do audio transcription for clients
As a transcriber, you'll be responsible for listening to audio files and typing out what you hear.
Files may be recordings of meetings, lectures, or other topics.
It's another job you can do from anywhere.
You don't need any prior experience or qualification to be a general transcriptionist. That's only necessary for jobs like medical transcription.
If you're a decent typist, with good listening skills, and you're able to multitask, then you should consider becoming a transcriptionist.
Another benefit of this job is the flexibility you get. And the pay is generally good too.
You can expect anywhere from $15 to $40+ an hour. The key is finding work with the right companies.
Here are three of the best transcription companies for beginners:
BTW, before you consider this job, make sure you have a good computer to handle the audio files.
11. Become a personal trainer online
If you're into fitness, you can become an online personal trainer.
As people become more aware of the importance of living a healthy lifestyle, they'll turn to personal trainers for help.
You don't need much to start either. A laptop with a camera, or a smartphone, is enough to record your exercises and routines.
You can also buy a cheap camera and upgrade when you start making money.
BTW, you don't need any special certifications or degrees to do this.
Sure it's great if you have them. But as long as you help other people achieve their health goals and get results, that's all that matters.
I know this may seem like a strange job but I put it here for a reason. It's because you already have a market you're familiar with – military spouses.
PRO TIP: Start a YouTube channel. Then connect with other military spouses and tell them what you're doing. This is a quick way to build your client base.
Not only can you help them get healthy, but you'll form new connections and lifelong bonds.
If you have a passion for fitness and a desire to improve the lives of others, becoming a personal trainer is definitely worth a shot.
For more information on this awesome job, check out this book.
6 Jobs for Military Spouses at Home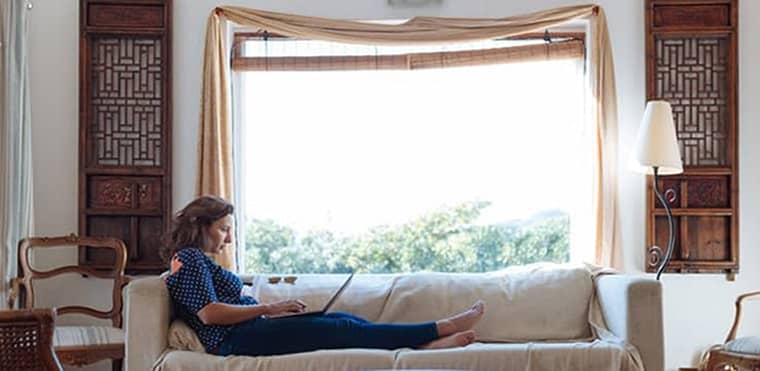 Being stateside has its benefits because you have more opportunities.
These jobs give you additional ways to earn money at home.
12. Get paid to test websites and apps
Do you consider yourself a smart Internet user?
Can you find anything on the web?
If you answered "yes" to those questions, you can become a search engine analyst.
I know it sounds fancy. Like the kind of job you need a MIT degree to do. But I promise, all you need is:
Great web research skills
Knowledge of current web, social, and pop culture
A fast internet connection
If you have those things, you can get paid as much as $15 an hour to surf the internet.
Companies will pay you to provide feedback on things like: relevance and usefulness of web pages in correlation to predefined search terms.
You'll be using search engines like Google and Bing for your research.
If this sounds like a fun job, here are two companies that are hiring now:
Your input will essentially help make the Internet a much more user-friendly place.
13. Make money as a Mechanical Turk worker
Have you heard of Amazon Mechanical Turk (aka MTurk)?
It's a great way to make money in your spare time.
Basically, it's a website where you complete tasks and earn money.
These tasks are done via a computer. They can be things like data entry, identifying objects in images or videos, research, and much more.
Amazon created the platform to connect people who need work done with those who can do it. This gives you variety and flexibility in the work that you'll be doing.
Depending on how much you plan on working, you can earn an extra $1,000 or more every month.
And with thousands of tasks available, it's easy to find something that fits your skills and interests.
If you want to learn more, click here to check out MTurk.
14. Become a Lyft driver
If you don't want to spend all your time working indoors on your laptop, you can get out and drive.
Being stateside, you can use Lyft in whatever city you're living in to make some money.
Driving for Lyft gives you a lot of freedom and flexibility. You can work when you want, and as much (or little) as you want.
The number of people using rideshare services continues to grow rapidly each day.
This makes it an excellent opportunity for you to earn an income.
If you have a license and free time, I suggest you sign up with Lyft today.
15. Find odd jobs in your area
Want to earn money helping people with their everyday to-dos?
With TaskRabbit you can.
It's a service that connects you with people in your area who need help getting things done.
This can be tasks like home organization, furniture assembly, personal assistance, and much more.
Most of these jobs range between $49 and $120 an hour, but can also be more.
In fact, some people are easily making $1,500 a week using the service. That's more than a full-time income!
And the best part? You can find jobs you love, at rates you want, around a schedule that works for you.
It's easy to get started. All you have to do is sign up with TaskRabbit here.
16. Get paid to chat in English
If you enjoy chatting with people, I've got the perfect recommendation for you.
It's called Cambly… a service that allows you to get paid to chat with people from around the world.
It's a form of tutoring, and the people you chat with are your students.
These students use the service to learn a language by chatting with a native speaker.
In most cases, you'll be chatting with people who want to learn English.
But if you're multilingual, you can teach a variety of people. And you don't need a degree or experience.
In addition to earning $10 to $13 an hour, you'll be paid weekly, can make your own hours, and are free to work whenever you want from anywhere.
Personally I think meeting new people is also amazing.
But don't take my word for it, check out Cambly yourself.
17. Make money as an online moderator
As an online moderator you'll be responsible for managing a client's forum, social media platform, or both.
This means you'll be doing things like approving members, responding to member issues, deleting inappropriate comments, blocking members, and more.
If you're familiar with how things like Facebook groups and forums work, this may be the exact job you're looking for.
As long as you're helpful, polite, and organized, you can do this job.
You don't need a degree or specific experience. However, if you've done admin work before, that experience will come in handy.
As an online moderator you can make between $13 to $20 an hour.
It will depend on who you work for, but expect the lower end if you're new to this. As you grow your pay will increase.
Finding these types of jobs can be done in many ways. Here are two resources to get you started:
Don't forget to fill out your profile. It'll help you attract the best employers.
4 Portable Careers for Military Spouses
If you want a career that you can take anywhere, you've got some options.
It won't be difficult to find work or make money with these jobs.
18. Be a copywriter for hire
If you can write a simple letter to your friend, you can earn a living as a copywriter.
Don't know much about copywriting? No problem. Let me tell you about it…
Copywriting is the art of using words to persuade someone to take a specific action.
Many businesses hire copywriters to create compelling advertising for their products or service.
These are the same letters and ads you see in your mailbox, email, magazines, or online.
They're not written to help businesses attract more customers, they are written to attract the right customer.
As a copywriter, you can easily earn $50,000, $100,000, or more a year writing promotional letters.
And best of all, you don't need a college degree to pursue this career. Anyone can do it.
If you're interested in this amazing career, click here for more details.
19. Become an editor online
Are you good at spotting typos, bad grammar, or poor spelling?
Then becoming an editor might be a great idea.
Traditionally, editors working in offices needed degrees in journalism, communications, etc., to get a job.
But as a freelance editor, it isn't necessary.
You can do this job working from home or overseas and earn an average of $50,000.
It's also a flexible job you can do both part-time or full-time.
If you feel confident in your editorial and proofreading skills, then check out these resources to find editing jobs:
If you don't have any experience editing or proofreading, you can easily acquire those skills. Click here to learn how.
20. Build websites for clients
Want to build amazing websites and make money doing it?
Well it's never been easier to learn how.
You don't need to rack up student loan debt to get started. In fact, you don't need a technology degree, or any degree for that matter.
All you need is a computer, time, and the right training.
As a website developer you could earn $5,000 to $20,000+ for each website you build for clients. Sounds crazy right?
The thing is, there's high demand for web designers among small and medium-sized businesses.
One look at most local business websites and you'll see what I'm talking about. Their websites are just poorly designed.
This means it's a future-proof career that isn't going away anytime soon.
And with tons of potential clients worldwide, you can even flex your entrepreneur skills and turn this into a thriving business if you wanted to.
If you're new to web design, this course will teach you the basics.
And if you've got some experience, this course will get you to the next level.
21. Earn a living as a writer
As a freelance writer, you'll never have to worry about finding work.
That's because there are so many companies that need written content for their websites.
If you love writing, have a unique writing style, and can create quality content, this is a great opportunity for you.
You can earn as much as $50+ an hour, or $100+ for a single article.
And if you have specialized knowledge in advanced fields like health, law, etc., you can get paid well for your expertise.
Your earning potential will also depend on two things: how much you want to work, and who you work for.
The key is to find the right opportunity by researching companies and blogs, then reaching out to them directly through their websites.
Another great option is to sign up with Contena.
It's not only a great resource for writing jobs, but you get access to helpful resources, tools, and a super helpful community as well.
Military Spouse Jobs: Q&A
At this point, you should have an idea about the kind of work you want to do from home.
Now it's time to answer a few questions you might have.
What is the best job for a military spouse?
Since most military families move frequently, portable jobs are perfect for military spouses.
And because relocation is necessary for military members to improve their skills and complete various training requirements, regular 9-to-5 jobs are pointless.
What is a portable career field?
A portable career is one that you can keep no matter where you go.
Instead of having to do another job hunt for the next city or country you'll be going to, you can just pack up and move.
It's a big reason why work from home jobs or businesses are great for military spouses.
With a laptop and wifi you can work from anywhere in the world.
And the best part?
You'll have the freedom to spend time with your family, make friends, and enjoy your new location.
Can you really make money online as a military spouse?
Absolutely!
You can do it with web applications, services, digital products, and more.
There are many legit ways to make money online.
If you put in the effort, it's possible to make the kind of income that can dramatically change your life.
Unfortunately, finding those money-making opportunities is almost like tiptoeing through a minefield.
Thankfully, the list above should help you figure things out so you can avoid those virtual landmines.
Start Working From Home Today
As Shania would say, "Looks like we made it!"
Now that you've gotten through this list, you know that there are some amazing opportunities for you to earn a living – both at home and overseas.
If you found one that's right for you and are eager to get started, great! Not everyone has that enthusiasm and a willingness to act.
In fact, only a few military spouses would find this list super helpful. And we both know they wouldn't mind making some money. So how about we help them out?
You can do so by sharing this list with others in the military community. They'll be grateful you did.
So go ahead and click the buttons below to start sharing now.