It's tough isn't it?
Trying to juggle the responsibilities of two parents, while simultaneously thinking about getting an education to help you give your kid(s) a better life.
You've had to silence your thoughts about school because the reality of putting food on the table is much more important.
But now those thoughts have started a rebellion in your mind.
They're becoming a little bit louder. And they're not gonna stop until they convince you that getting a degree is a sacrifice you'll just have to make.
That my dear, is your inner voice of wisdom. And I must say, I whole-heartedly agree with everything it's trying to tell you.
Sure that might not mean much to you. After all, you've probably got some type of job right now that's allowing you to cover your basic needs.
And if you don't have a job, well… that's another story.
The point I'm trying to make is… you're here for a reason.
You could be surfing the web, watching TV shows, or doing a million other things. But instead, you're looking for the best degrees for single mothers.
And you know what?
I'm proud of you for taking the first step towards a better future. Because we both know this isn't just for you… it's for your family.
So, if you want to improve their lives by getting a degree, then keep reading.
16 Best Degrees for Single Moms
Here's the list of degrees that can lead to your future career.
1. Dental Hygienist Degree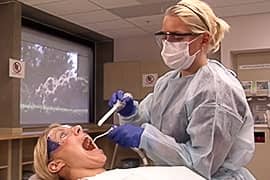 Most dental hygiene associate degree programs are designed to be completed in as little as 24 months.
You'll be taking courses that include: Dental Anatomy, Oral Health and Hygiene, and Preventative Practices.
Some schools even have a dental clinic on campus, which means you'll be able to develop valuable skills in a real-world setting.
You'll get to work with actual patients under the supervision of a dentist or industry professional.
Most schools will also help you prepare for the National Board Dental Hygiene (NBDE) exam, and any other state or regional exams.
Why become a dental hygienist?
It's a great opportunity for you to help people understand how good oral health benefits their body.
Your knowledge, empathy, and interpersonal skills, will make it easy to educate and connect with patients.
Median Pay: $35.61 per hour
Job Security: An aging population means increased demand and stable career.
2. Diagnostic Medical Sonography Degree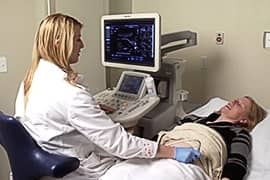 Depending on the school you attend, it can take between 16 to 24 months to get your Sonography degree.
As part of the program you'll take courses like: Cross-sectional Anatomy, OB/GYN Pathology, and Medical Ethics.
It's also a very hands-on program.
You'll learn how to use specialized equipment to create images of internal body parts, which physicians will use to make medical diagnoses.
Most reputable sonography programs usually have some sort of externship (aka clinicals).
That means you'll be able to get real-world experience by working for local hospitals or medical facilities.
Why become a diagnostic medical sonographer?
Because you can use your skills, critical thinking, and problem-solving abilities to help a variety of patients with different problems.
That includes patients who are healthy to those who are critically ill.
The dynamics of the job mean that no two days (or patients) will ever be the same.
Median Pay: $34.33 per hour
Job Security: There's growing demand for sonographers as obesity and heart problems increases.
3. Occupational Therapy Assistant (OTA) Degree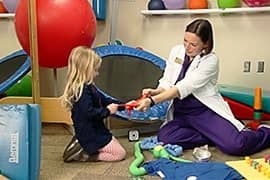 This program takes between 20 to 24 months to complete.
During that time you'll be taking courses such as: Occupational Analysis, Kinesiology, and Mental Health.
You'll get to develop your confidence and skills in lab settings that mirror real-world scenarios.
Lab activities involve lots of psychomotor skill development. That means you'll learn how to train clients in mobility skills, like bathroom mobility.
Once you graduate, you'll need to take a national exam to become a Certified Occupational Therapy Assistant (COTA).
The best schools will help you prep for this exam completely free.
Why become an occupational therapy assistant?
So you can help people engage in activities that are important to them.
Your compassion, empathy, deep care, and persistence, will encourage people to be contributing members of their community.
Median Pay: $27.25 per hour
Job Security: As the population battles disabilities and aging, there'll be growing demand for OTAs.
4. Veterinary Technician Degree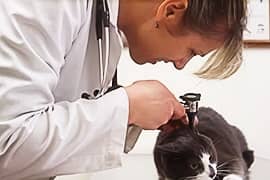 This associate's degree program may be completed in 16 to 24 months (it varies by school).
But all school curriculums include courses like: Animal Behavior, Laboratory Procedures, and Livestock Animals.
You'll learn how to work closely with vets, especially in surgical settings.
And most of what you learn will encompass more than just cute dogs and sassy cats…
The program will also teach you about horses, reptiles, birds, cows, and more.
Everything you learn in the program will translate into the real world because it's very hands-on.
You'll gain this experience working in veterinary clinics or mixed-animal practices, where you'll demonstrate your knowledge and skills.
Why become a veterinary technician?
It's all about the animals.
You'll be responsible for ensuring that they're healthy and disease free.
Owners will also depend on your competence, communication, and compassion in tending to their pets.
Median Pay: $16.06 per hour
Job Security: It's a stable, fast-growing career doing lab work and providing care for pets and animals.
5. Paralegal Associate's Degree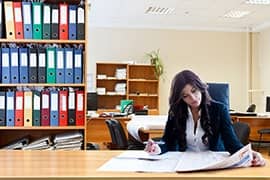 Some schools offer programs that can be completed in as little as 15 months, while most don't exceed 24 months.
All schools feature courses on: Business Law, Legal Writing, and Civil Litigation.
This associate's degree will help you learn the law, understand its process, and know how to research it.
That's important because a big part of your job as a paralegal will involve preparing and submitting legal forms to attorneys, courts, and other parties.
If you choose the right school to pursue your paralegal degree, it will have an internship program for you to gain experience in a law firm.
The best schools are also accredited by the American Bar Association (ABA).
Why become a paralegal?
It gives you the foundation to work in a variety of law fields.
You get to work in a corporate legal environment where your analytical, communication, time management, and multitasking skills can flourish.
Median Pay: $24.24 per hour
Job Security: As long as the need for lawyers continues to exist, this career will always be in demand.
6. Respiratory Therapist Degree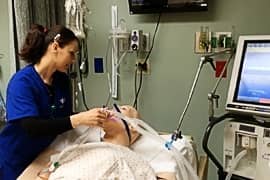 You can expect to complete your Respiratory Therapy program between 20 to 24 months.
Most schools will feature courses like: Mechanical Ventilation, Respiratory Pediatrics, and Emergency Care.
The program will teach you how to work with a variety of patients, such as premature infants with undeveloped lungs or elderly people suffering from failing or diseased lungs.
You'll also gain valuable hands-on experience working with patients in hospitals and other healthcare facilities.
This will give you the confidence you need to prevent, diagnosis, treat, manage, and rehab patients with breathing or other cardiopulmonary disorders.
Why become a respiratory therapist?
You get to provide emergency and immediate relief to patients suffering from life-threatening respiratory situations.
Your ability to work under pressure, think critically, and make quick decisions will help you improve (or save) people's lives.
Median Pay: $28.71 per hour
Job Security: Rising conditions like COPD means demand for this career will continue to increase.
7. Physical Therapist Assistant Degree
In as little as 18 months (24 max), you can earn your PTA associate's degree.
During that time some of your courses may include: Clinical Pathology, Behavioral Science, and Biomechanics.
As a student, you'll get to learn and practice the clinical functions necessary to help patients every day.
This training may take place in a lab setting, to teach you about all the equipment and instruments you'll need to do your job as a PTA.
In addition, you'll have a chance to work in hospitals and rehab centers to gain valuable clinical experience.
This will give you everything you need to become an important member of any healthcare team.
Why become a physical therapist assistant?
You get to help patients improve their productivity, strength, mobility, and quality of life.
They'll rely on your competence, adaptability, and service-oriented characteristics to help them overcome adversity.
Median Pay: $27.61 per hour
Job Security: An aging population and folks with chronic issues equals high demand for PTAs in the future.
8. Web Developer Degree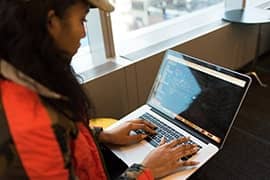 Getting your web developer associate's degree can be done in just 18 months.
While some schools have 24-month programs, they all offer courses in: Javascript, Website Design, and Operating Systems.
This program is designed to teach you how to develop websites.
You'll learn how to create websites that function on a variety of mobile and desktop applications and devices.
The training you get in the fundamentals of IT will help you understand programming languages of the web.
That means you'll learn to decipher any type of web code – like the one used to power your favorite website.
Why become a web developer?
It's one of the fastest growing careers for the future.
The world is becoming a hyper-connected hub for business and industry.
Therefore, companies will need your communication, problem-solving, and IT skills, to help them stay in business.
Median Pay: $32.69 per hour
Job Security: Growth in mobile devices and e-commerce means increased demand and opportunities for you.
9. Early Childhood Education Associate's Degree
The time needed to complete this program varies by school, but it usually takes about 18 to 24 months.
The courses you'll be offered include: Behavior, Health, and Child Development.
The ECE program will give you the skills needed to be a teacher or assistant teacher in a child care or Head Start environment.
Depending on the school, you'll be able to get real-world experience working in a childcare facility.
This will give you first-hand knowledge about children's development, interests, and abilities.
Plus, you can practice your teaching skills and strategies.
Why become a preschool teacher?
Parents will depend on your creativity, patience, and interpersonal skills to help their kids.
You'll be responsible for the intellectual and social development of those wonderful young minds.
Median Pay: $13.94 per hour
Job Security: Working parents plus the need for childhood education results in a stable long-term career.
10. Medical Laboratory Technician Associate's Degree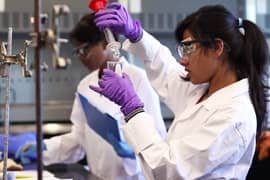 It's only going take about 18 to 24 months to finish your medical lab tech program and get your associate's degree.
You can expect to take exciting courses like: Chemistry, Immunology, and Microbiology.
You'll learn about the clinical responsibilities of medical lab technicians, such as specimen processing, diagnostic testing, and basic patient care.
The program also features an extensive clinical practicum experience to ensure that you're ready for the real world.
During that time, you'll use sophisticated laboratory equipment and technology to analyze patient samples and other specimens.
Why become a medical laboratory technician?
You get a career in healthcare without the need for direct patient care.
Working behind the scenes, you'll provide important information to physicians and clinicians.
They'll use that information to make diagnosis and treatment decisions for patients.
Median Pay: $24.89 per hour
Job Security: More lab experts will be needed to diagnose conditions in aging and unhealthy population.
11. Radiologic Technologist Degree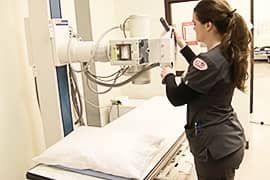 You should be able to complete the radiologic technology program in around 20 to 24 months.
Some of the featured courses might be: Radiation Protection, Patient Care, and Clinical Education.
This program will teach you the science and techniques needed to obtain high quality diagnostic images of the human body.
You'll also learn how to use sophisticated medical equipment to complete examinations safely and quickly.
Your externship in hospitals and imaging centers will give you the experience you need to become a valuable member of any medial team.
You'll get a chance to use the equipment you trained on to solve real patient-focused problems.
Why become a radiologic technologist?
To have the satisfaction of helping people when they need it most.
Doctors will rely on the images you create to properly diagnose and treat patients.
Plus, you get to apply your problem-solving, communication, and adaptability skills, in a fast-paced work environment.
Median Pay: $28.10 per hour
Job Security: There's a growing demand for imaging specialists to make diagnoses of rising medical issues.
12. Cardiovascular Technologist Degree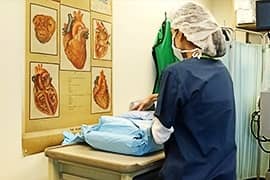 Depending on the school, getting your associate's degree in cardiovascular technology can take you about 24 months.
Some of the featured courses include: Pathophysiology, Echocardiography, and EKG Testing.
As a student in this program, you'll learn how to perform noninvasive examinations of cardiac and peripheral vascular ailments.
This training in performing diagnostic examinations may be taught by a cardiovascular physician.
Before graduating, you'll be able to work in a healthcare facility like a hospital or clinic.
During that time, you'll gain practical experience measuring, analyzing, and imaging the heart and circulatory system.
Why become a cardiovascular technologist?
You get to work alongside cardiologists in treating patients with potentially life threatening health issues.
Your ability to think critically, take initiative, and work well under pressure, will make you a perfect fit for this healthcare career.
Median Pay: $26.57 per hour
Job Security: An aging population and increased heart problems equals high demand for future jobs in this field.
13. MRI Tech Associate's Degree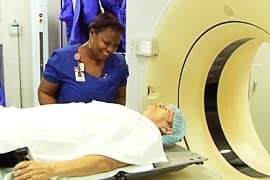 Earning your MRI Tech degree can easily be done in 18 to 24 months, depending on the school you choose.
Your typical courses will include: Medical Informatics, Anatomy, and MRI Procedures.
This program teaches you how to use specialized computer equipment to produce cross sectional images of the body.
Those are the images that radiologists use to diagnose disease and disorders.
A big chunk of your program will be devoted to clinical hours.
That means you'll get real-world experience working for hospitals scanning patients under the direction of a physician.
Why become a MRI technologist?
This career allows you to work directly with healthy and critically ill patients of all ages.
Patients will rely on your compassion, competence, and clinical skills, to keep them safe in an intensely magnetized area.
Median Pay: $33.62 per hour
Job Security: Demand for MRI techs will increase due to an older population suffering from more medical problems.
14. Radiation Therapist Degree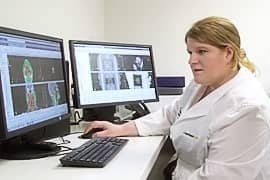 At most accredited schools, you'll be able to complete the program in about 20 to 24 months.
Some areas of study will include: Pathology, Dosimetry, and Radiation Oncology.
You'll be taught how to use highly complex equipment to provide radiation treatment under the direction of a physician.
This means you'll be implanting, documenting, and analyzing a patient's treatment to assist the radiation oncologist.
In clinical and laboratory settings, you'll get hands-on experience using different imaging techniques to assess side effects of treatment.
This real-world training will help you easily adapt to a fast-paced and sensitive work environment.
Why become a radiation therapist?
It's an opportunity to join a super-team of healthcare professionals in the fight against cancer.
Apart from your analytical and communication skills, patients will rely on your compassion for physical and psychological comfort as they fight for lives.
Median Pay: $38.73 per hour
Job Security: Growing demand comes from an aging population and advances in radiation therapies.
15. Cyber Security Associate's Degree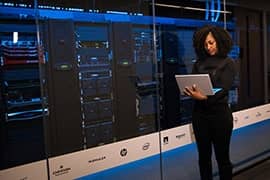 If you put your mind to it, you can complete this program in just 18 months (24 months is normal).
Common courses included are: Linux Administration, Computer Forensics, and Network Security Management.
You'll learn how to minimize the overall risk profile of businesses and organizations.
You'll gain experience in providing quality technical assistance to users while employing resolution strategies and industry best practices
The program will prepare you to manage an organization's network and/or IT-related systems.
You will primarily be focused on loss prevention, encrypting databases, and investigating potential hacks and data breaches.
Why become a cybersecurity specialist?
With the continued increase in cyber crime, you can help companies prevent, detect, and battle those threats.
It's the perfect career for you to apply your critical thinking, communication, and problem-solving skills.
This is one of the few non-medical jobs where you can easily make six figures a year.
Median Pay: $29.97 per hour
Job Security: Look no further than Facebook and bank hacks to see why this career is in high demand.
16. Registered Nursing Associate's Degree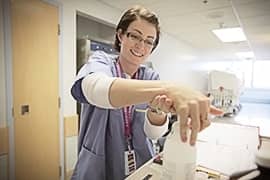 It's possible to earn your associate's degree in nursing between 18 to 24 months – depending on the school.
You can expect to take courses in: Nutrition, Acute Care, and Nursing Concepts.
As a nursing student, you'll learn how to work with diverse patient populations in specialized areas such as critical care.
Using research and technology, you'll be able to implement care plans to improve patient outcomes.
You'll be able to work with real patients during clinicals.
Upon completion of the program, you'll have to pass the NCLEX state exam to become a licensed nurse.
The best schools will help prepare you for this exam.
Why become a registered nurse?
Other than helping people, it's the first step towards a career in healthcare administration or nursing education.
Your adaptability, care, and critical thinking skills, will help you provide quality nursing care to patients.
Median Pay: $26.50 per hour
Job Security: As population heath continues to decline demand for nurses will continue to increase.
Why are These Degrees Right for You?
Because they fit the common criteria that matters to single moms in our community.
They believe degrees should attainable, affordable, rewarding, and not take forever to complete.
Degrees should lead to secure jobs with good salaries as well.
Also, anything where the potential work-life balance is kaputsky (yes I said that), would basically be pointless.
BTW, shoutout to all the single moms who replied to the survey I sent. Your input was much appreciated!
This list of degrees was created to match their criteria as closely as possible. That means most of them will only take you about 24 months to complete.
The degrees above can also lead to growing careers that'll let you do more than just pay the bills – you'll get to take care of your family too.
Final Take & Your Next Action Steps
As I said before, the fact that you even decided to research good career paths for single mothers says a lot about you.
You've taken a huge first step towards doing something that will have a significant impact on the lives of you and your kids.
Now you need to ride this momentum and not let it die.
Here's what I suggest doing:
Pick 2 or 3 degrees that interest you most
Do a bit more research on the programs and careers
Make a list of questions you'd like answered
Find people in the those fields to talk to and ask your questions
Research colleges offering the programs you're interested
Explore scholarships, grants, etc, to see what financial aid you qualify for
Choose the program and school that you're comfortable with
After doing those things you'll be ready to start your program.
And when you graduate, make sure you come back here and let everyone know you did it.
We'll even publish your story if you want. It's gonna be totally inspirational.
Speaking of inspirational, there are tons of single moms that can use this amazing post right now. Maybe they're searching for answers or looking for that little nudge to get them going. And you can help them.
Just click the buttons below to start sharing this post with them now.